Recent Successes
Visit the Southwest Border AHEC on Facebook at https://www.facebook.com/southwestborder.ahec
Southwest Border AHEC was featured in the July issue of the Denver Regional Newsletter. The Denver Region Aims to Increase Response Rates during Faith Communities Census Weekend of Action.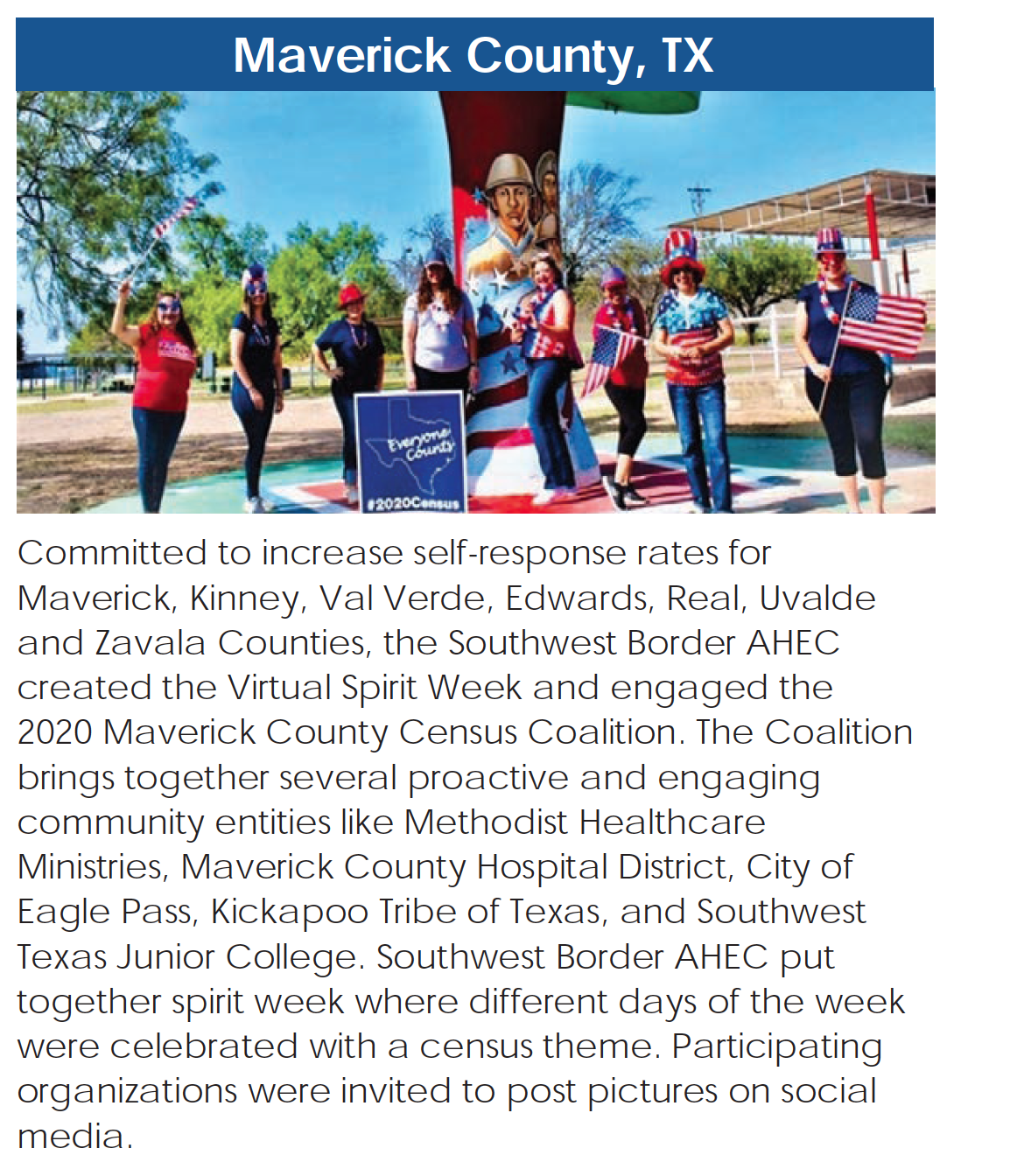 Mental Health Virtual Seminar Series: Cultivating Compassion in the Wake of Covid-19: A total 45 health care providers and public servants participated in the week-long mental health series. Southwest Border AHEC in partnership with the Maverick County Hospital District and CHIC Coalition of Del Rio hosted mental health workshop series the week of August 25-28, 2020. An introduction to the neurobiology of the brain, compassion fatigue, ideas on how routines and rituals can help develop and maintain self-compassion and good mental health during these times of COVID stress for the health care provider, were key points discussed during these sessions. A big thank you to all the speakers, participants, partners for this great event.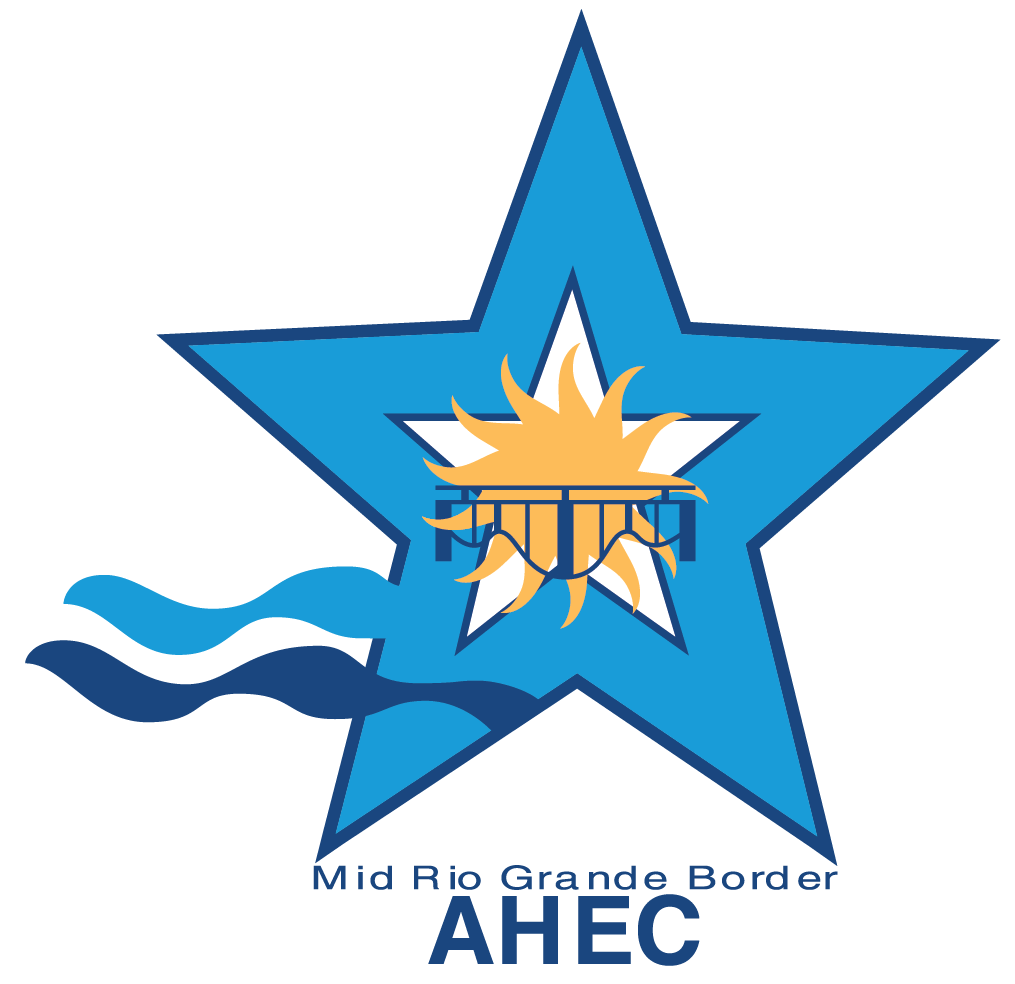 Visit the MRGB AHEC on Facebook at www.facebook.com/areahealtheducationcenter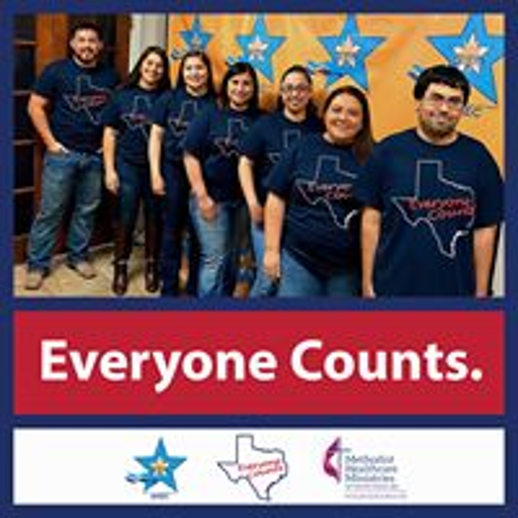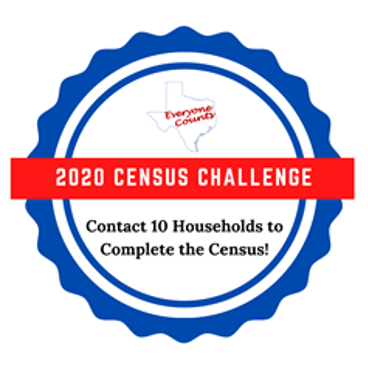 AHEC Creates the Census Challenge: Over the years, numerous challenges have been created by individuals to help generate awareness about certain health issues and/or raise funds to support research and medical discoveries to improve treatments. Today, the Area Health Education Center (MRGB AHEC) invites the entire community to take the Census Challenge. The Census Challenge consists of an individual reaching out to 10 households within their social network, family members or circle of friends and encourages each of the 10 households to complete the Census. "Our hope is that this will create a domino effect within our community and will result in an accurate and complete count" stated Victoria Gutierrez, Census Project Coordinator at AHEC. AHEC in collaboration with Methodist Healthcare Ministries is working to bring awareness and inform the community about the importance of completing the 2020 Census through the EveryoneCounts initiative. Because the outcome of the 2020 Census numbers will impact everyone, the sole focus of this initiative includes reaching out to 35 counties in South Texas and facilitating methods to complete the Census for all families. The AHEC in Laredo leads the efforts and has partnered with other agencies and groups to help make progress in the region. The 35 counties are in the service area of the 5 Area Health Education Centers under the UT Health San Antonio, South Texas AHEC Program. These 35 counties consist of medically underserved areas and with young age populations. AHEC's goal is to ensure a complete count is obtained for the state of Texas. Join us and take the Census Challenge!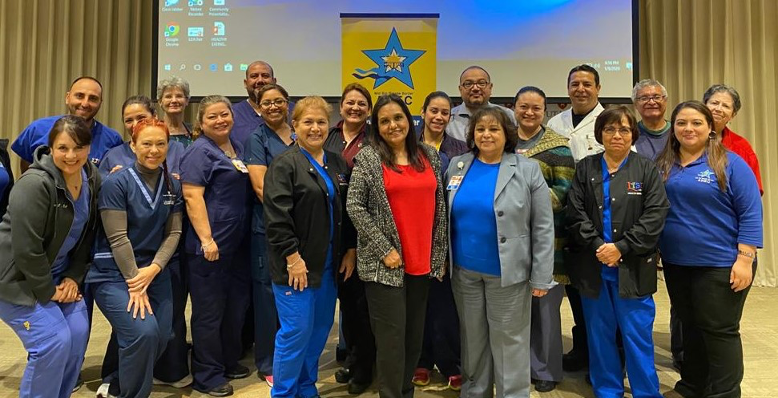 School Health Services Prepare for School Year: The COVID-19 public health issues impacting the world have no impact on nurses preparing for the school year. Nurses from all walks of life gather virtually with the same compassion and commitment, as in prior years, to prepare for the new school year in which seems to bring some unpredictable events. Because this year looks different from various angles, special attention was given to self-care, mental health, and improved methods to better assist students and their families which in many instances, rely on the school nurse for referrals and information. The series of presentations offered current information on medical topics that support the day-to-day activities of nurses at Laredo Independent School District and United Independent School District. For this reason, over 135 nurses, health assistants, and health technicians met for a virtual educational forum offered by the Area Health Education Center. The continuing education and professional development day was created to meet the needs of the local public school district health services department staff. Health Services Directors Irene Rosales and Grace Lopez met with Julie Bazan, AHEC Executive Director, to design the program and personalize the content of the program to help meet the needs of the school nurse. Experts in the field were identified and delivered impactful information with a variety of best-practice methods to consider by nurses throughout the school year. Some of the school nursing topics included trauma, care plans for children with genetic disorders, ethical responsibilities, learning to hear what has not been said, making sure no one gets hurt, COVID-19, and drug trends.
Participant evaluations and feedback revealed that 100% of those attending reported that the information presented will help them improve their school nursing skills. "Thank you for this awesome educational forum; tremendous speakers...thank YOU AHEC!" remarked one of the school nurses attending. "We value the AHEC mission and this partnership allows our AHEC to cater to the educational needs of the school health services providers..…we are proud to serve and support all their efforts" commented Julie Bazan, AHEC Executive Director. This educational program provides valuable information, continuing education hours and it is really beneficial for the students because the information received is delivered through their school nurses who Make A Difference In Every Student's Life…one child at a time.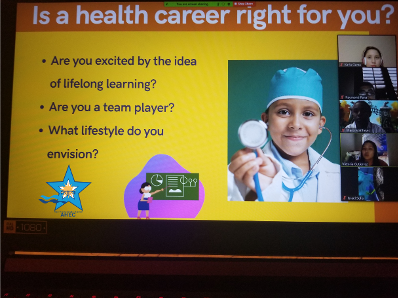 Virtual Training for AHEC Students: The Mid Rio Grande Border Area Health Education Center (MRGB AHEC) continues to bring awareness, education and community service opportunities to the youth in the community via Virtual AHEC Student Meetings. The excitement and energy that is brought by the students has made these gatherings extremely beneficial for everyone. Each session has covered a variety of topics catered for school age groups including Drugs & Alcohol Awareness, COVID-19 How to Stay Safe, Identifying Career Paths in HealthCare, Scholarship Programs and others. The topics selected for each gathering are student driven based on their interest and educational goals. In addition, as part of the program students are presented with highlights on specific careers in the health care field, education, business and STEM. The program also invites students take part in a one-to-one virtual meeting with AHEC staff to further explore career and the educational path needed to identify educational pipelines. Furthermore, the AHEC staff assists in providing the students with an educational layout that students can use to achieve their academic and career goals. AHEC student Valeria Morteo found the presentation on health careers informative and she expressed "I am very grateful to the AHEC Staff for offering guidance for my future goals." The Virtual AHEC Student Leadership Meetings invite students from the 8-12 grade level. The virtual meetings are held twice a week on Tuesdays and Thursdays for the next four weeks from 5:30 pm – 6:30 pm. Students can earn up to 9 hours of community service by participating, displaying their video camera, and an image background of the meeting's theme. If you have any questions, please email kgarza@mrgbahec.org or call (956)220-6168.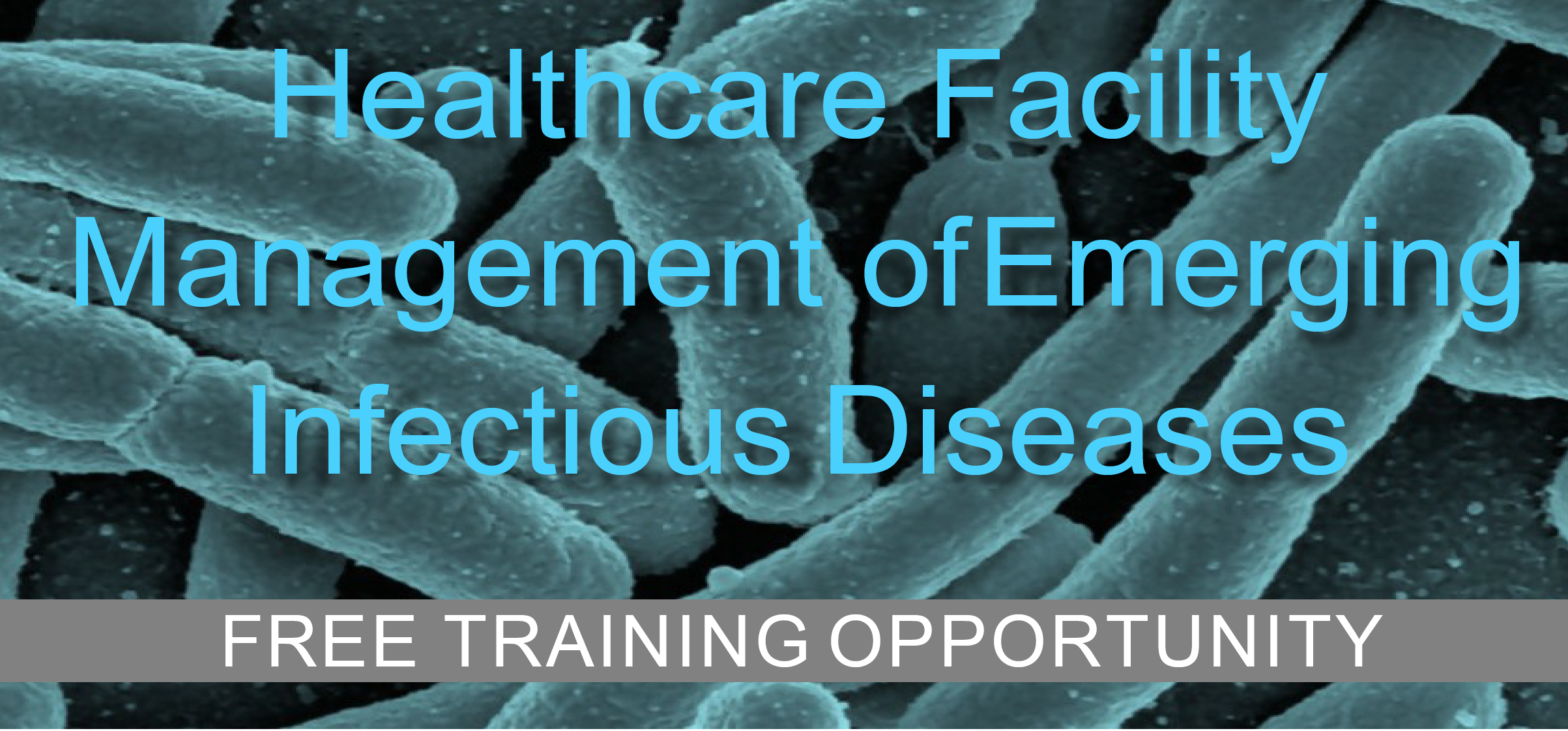 Laredo Community Benefits from COVID-19 Trainings: In times of distress and anxiety about public health issues, the Area Health Education Center (AHEC) understands the importance of collaborative initiatives to facilitate education and information about issues affecting the community. For this reason, the AHEC and the Texas A&M Coastal Bend Health Education Center (CBHEC) from Corpus Christi, Texas joined forces to provide free trainings on COVID-19. The trainings were provided in English and Spanish to ensure that the entire community along the U.S. and Mexico border area received the training and information to enhance their knowledge about COVID-19. The training titled Healthcare Facility Management of Emerging Infectious Diseases, a virtual, real-time two-hour training provided an opportunity for participants to learn more about infection prevention and control and medical surge during COVID-19. The training modules covered Epidemiological trends of COVID-19; Transmission Controls; Isolation & Quarantine; Waste Management and Medical Surge Capacity. The trainings were offered utilizing zoom platforms and were presented on Tuesday, August 11th at 1:30pm by Catalina Gonzalez Marquez, MD from Brown University; on Wednesday, August 12th at 1:30pm by Noah K. Rosenberg, MD from Brown University; and on Thursday, August 13th at 1:30pm by Natalie Moore, MD, MPH from The University of Connecticut Health Center. Over 82 medical providers, community health workers and community members participated in the trainings. "Education is key for everyone; knowing the facts and understanding the current environment can lead to less anxiety and informed decisions" remarked Julie Bazan, AHEC Executive Director "AHEC is grateful for its partnerships and this in turn creates opportunities for the community.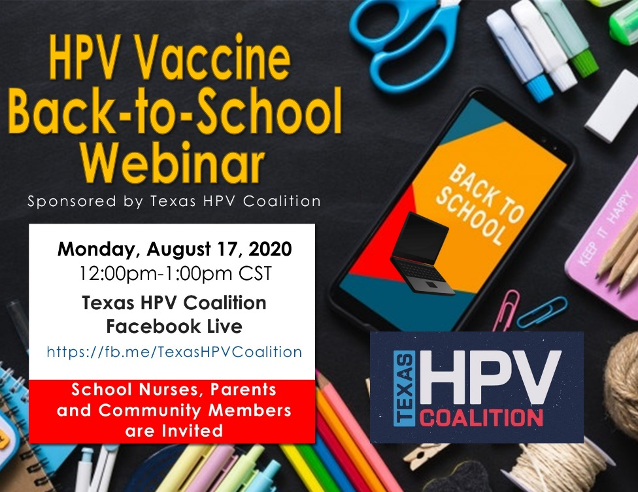 Laredo AHEC Joins State Panel Discussions: Over the years, the Area Health Education Center (AHEC) has offered valuable information on topics including health, education and quality of life issues. AHEC also participates in local, State and Nationwide initiatives to create awareness and offer the most recent information for the benefit of the communities served under the AHEC umbrella. AHEC is a proud member of the Texas HPV Coalition (THPVC) whose mission is to advocate and promote the importance of cancer prevention and early detection methods. As the school year begins and parents, school personnel and students plan for a year filled with new experiences like no other year before, members of the THPVC agreed to organize and offer the HPV Vaccine Back-to-School Webinar. The webinar aimed at school nurses, parents and community members offered a detailed and precise explanation about the importance of immunizations, the benefits of the human papilloma vaccine (HPV) and back to school requirements and methods clinics are taking to ensure safety amidst COVID-19. A panel presentation composed of Karen Schwind-President of the Texas School Nurses Organization in New Braunfels, Texas; Dr. Sanghamitra Misra-pediatrician and the director of the Texas Children's Mobile Clinic Program and Ms. Vicky Morales -Area Health Education Center of the Mid Rio Grande Border Area of Texas, Inc., representing the voice of parents with questions on the effectiveness of the vaccine as well as myths. The webinar was offered live via Facebook on Monday, August 17th at 12noon. Numerous participants were present and shared their thoughts and questions on the discussion topics.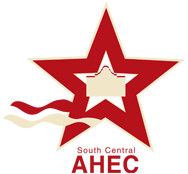 Visit the South Central AHEC on Facebook at https://www.facebook.com/SouthCentralTexasAHEC/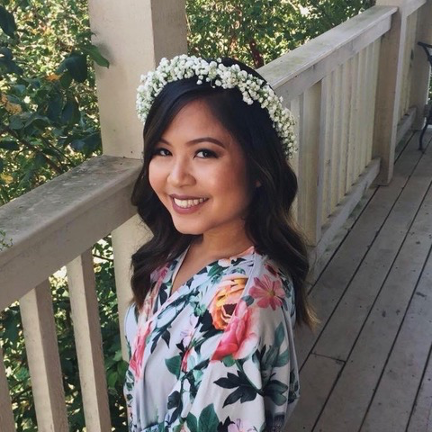 UTSA Intern: We want to welcome our new intern, Madeleine Tran. Madeleine is an undergrad in the Public Health program at The University of Texas at San Antonio (Go Runners!). She currently works as an emergency room medical scribe and serves as the volunteer coordinator for UTSA's Public Health Society. Outside of that, she enjoys writing, making music, and playing video games. After graduation, she hopes to receive a Master's degree in Public Health. She is excited to improve the health of individuals in our community through this internship opportunity, and we look forward to working with her throughout the semester!
SA KIDS Breathe Project: South Central AHEC is a partner with the SA Kids Breathe Project led by Dr. Mandi Svatek, a pediatric intensivist. The project is one that focuses on working with families to identify the asthma triggers for children that may exist in the home. CHWs-Promotores work with families to identify the possible asthma triggers and ways to lower risks that may exist from smoking, mold, pet dander and other environmental causes. Since March, the CHWs have not been able to visit homes but start up again on Sept. 1st. The chart indicates the progress thus far.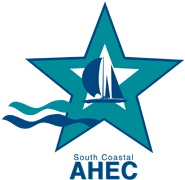 Visit the South Coastal AHEC on Facebook at https://www.facebook.com/South-Coastal-AHEC-164097279738/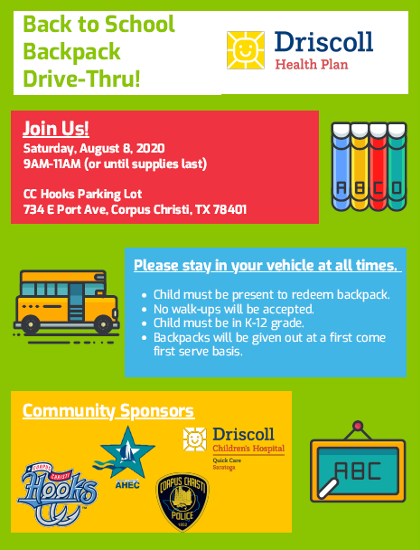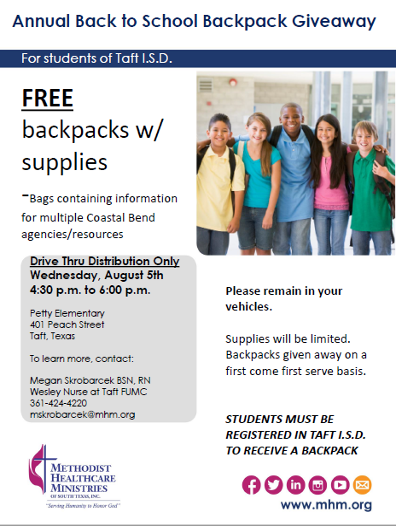 Backpack Back to School Supply Drive: In partnership with Driscoll Health, Almouie Pediatrics, Corpus Christi Police Department, Corpus Christi Hooks, and various school districts through the region, South Coastal AHEC participated distributing over 4,800 bags of school supplies to students across the Coastal Bend area at various school supply drives.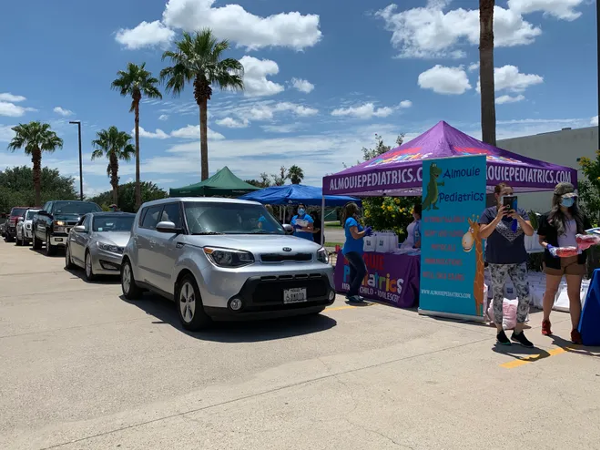 Back 2 School Immunization Drive-Thru Clinics: In partnership with Corpus Christi-Nueces County Health Department, Walgreens Pharmacy, and local school districts, South Coastal AHEC successfully provided a safe way for parents to get their child vaccinated through our various back to school immunization drive-thru clinics. Over 75 immunizations were administered to students across the area.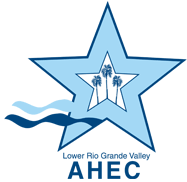 Visit the LRGV AHEC on Facebook at https://www.facebook.com/lrgv.ahec
Nothing to report at this time.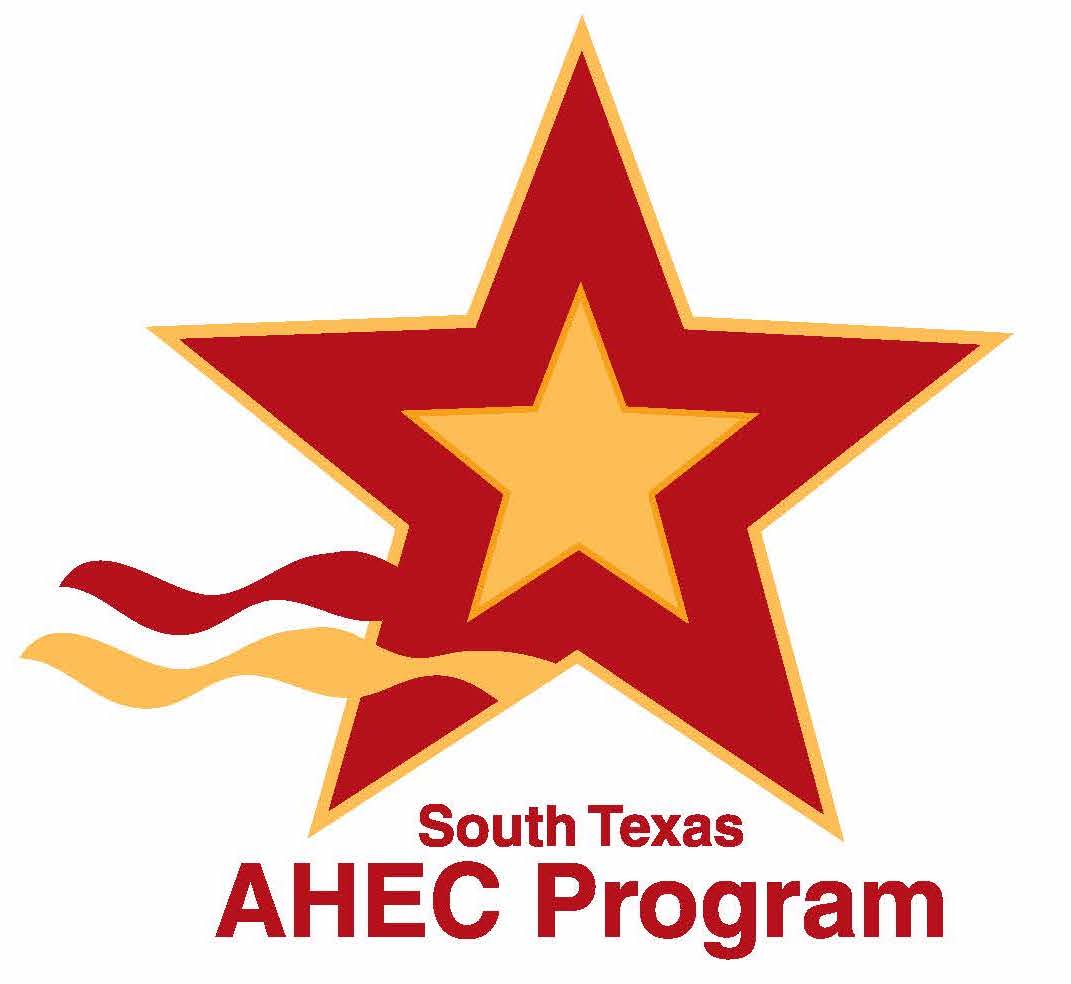 The South Texas AHEC Program would like to welcome Dr. Pamela Recto, PhD, RN to our team!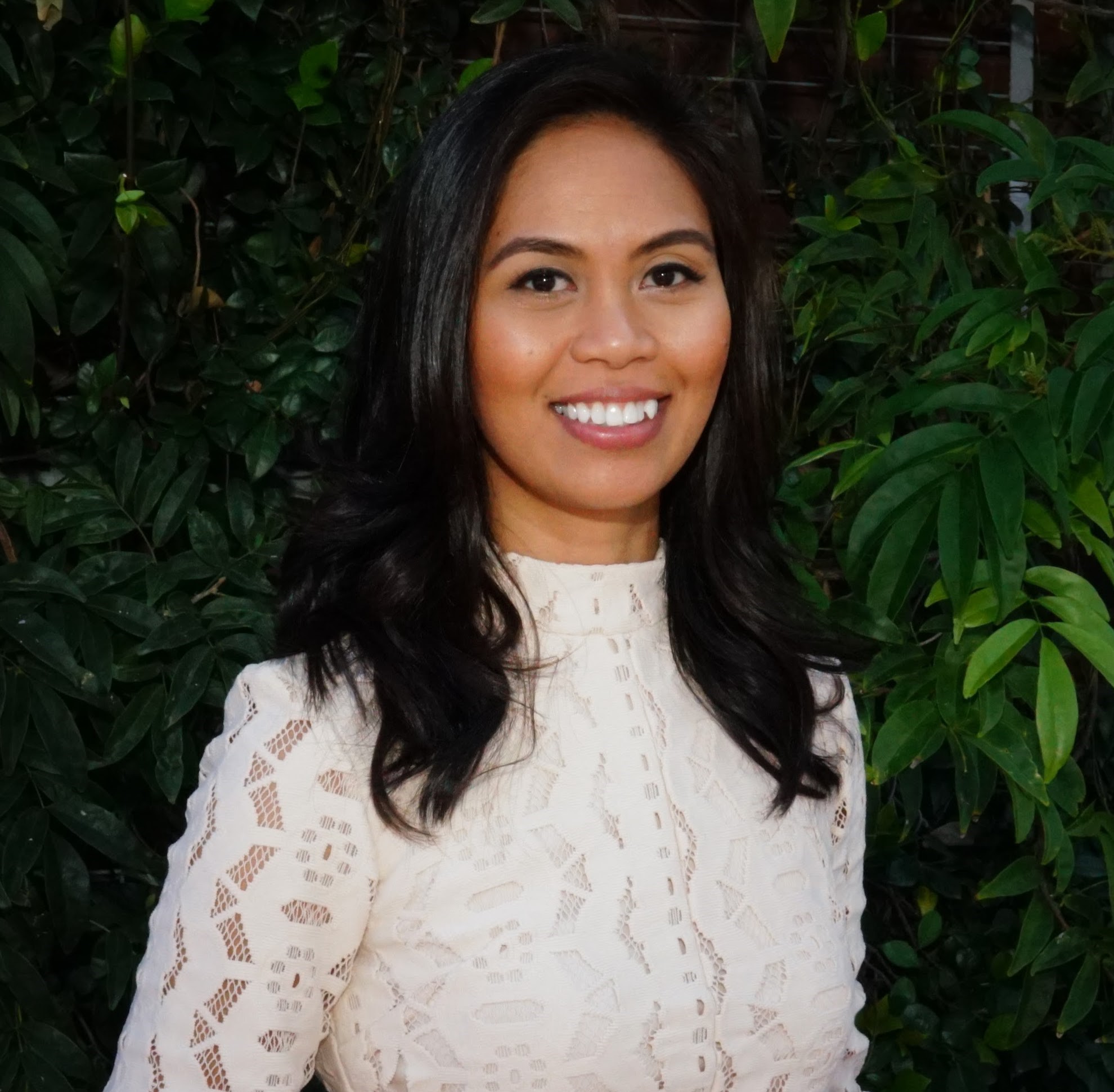 Dr. Pamela Recto is an Assistant Professor for the School of Nursing at UT Health San Antonio. Dr. Recto graduated in 2018 with a Doctor of Philosophy in Nursing from the University of Texas at Austin, and recently completed a postdoctoral fellowship through the Center for Research to Advance Community Health (ReACH Center). Dr. Recto has conducted both quantitative and qualitative studies to understand the knowledge, beliefs, and attitudes of perinatal Mexican-American mothers concerning maternal depression. Dr. Recto has recently expanded her work to include adolescent fathers. Her interviews with young mothers indicated the need to support adolescent fathers in order to promote overall well-being for young families. Her recent research endeavors include a study with adolescent fathers, which was sponsored by the Institute for Integrations of Medicine and Science (IIMS), under the mentorship of Dr. Janna Lesser. The first project consisted of interviews, exploring the critical life events that shape and impact parenting among young Hispanic fathers. Two manuscripts describing the findings of this project were recently published in the Western Journal of Nursing Research and Issues in Mental Health Nursing and another currently under review in the journal of Public Health Nursing. Dr. Recto received additional funding from the IIMS to conduct a follow-up project examining how the COVID-19 crises has impacted young fathers. Efforts are underway to disseminate the findings from this project.
Dr. Recto's experience as a maternal-child nurse deepened her understanding and desire to advocate for young parents. As a registered nurse and scientist residing in South-Central Texas, Dr. Recto is passionate about serving vulnerable populations that are underserved. Dr. Recto's next steps in her program of research is to further elucidate how social determinants of health impact behavioral health in young parents. Her long-term goal is to develop or adapt interventions that promote positive health outcomes in this population. Additionally, her goals are to sustain her partnership with community stakeholders in order to expand and strengthen services and prompt policy initiatives that will help adolescent mothers and fathers. She is also committed to advancing knowledge in behavioral health to bring forth awareness that may lead to effective health care practices that reduce health disparities among young parents. She has recently joined the AHEC team and continues to work with Dr. Lesser to advance their work in population health.